'Horses & Riders at the Palace', by the Marino Marini Foundation of Pistoia, it presents a selection of works by Marino Marini exhibited in Bologna, at Palazzo Boncompagni, from 26 February to 15 May.
24 works – 23 owned by the Foundation and a plaster sculpture from the Toninelli private collection -, created from 1939 to 1963 and dedicated to one of the artist's most cherished themes, that of knights and horses, which have made famous in the world, as the superb. The angel of the city which, overlooking the Grand Canal, welcomes visitors to the Peggy Guggenheim Museum in Venice.
Along with the 18 sculptures, 6 large paintings are also exhibited, testifying to the quality of Marino Marini's brush.
The works, including large ones, are set in the Renaissance rooms of Palazzo Boncompagni, recently reopened to the public, which was the residence where Pope Gregory XIII was born and lived, until his ascent to the papal throne on 13 May 1572.
The exhibition is accompanied by a catalog with photographs of the works shot in the environment, texts and a set of period images from the shots granted by Aurelio Amendola, photographer of artists and friend and fellow citizen of Marino Marini.
FREE ENTRY WITH RESERVATION:
Free admission upon reservation on the exhibition website at this link. To access the exhibition it is necessary to have a reinforced Green pass.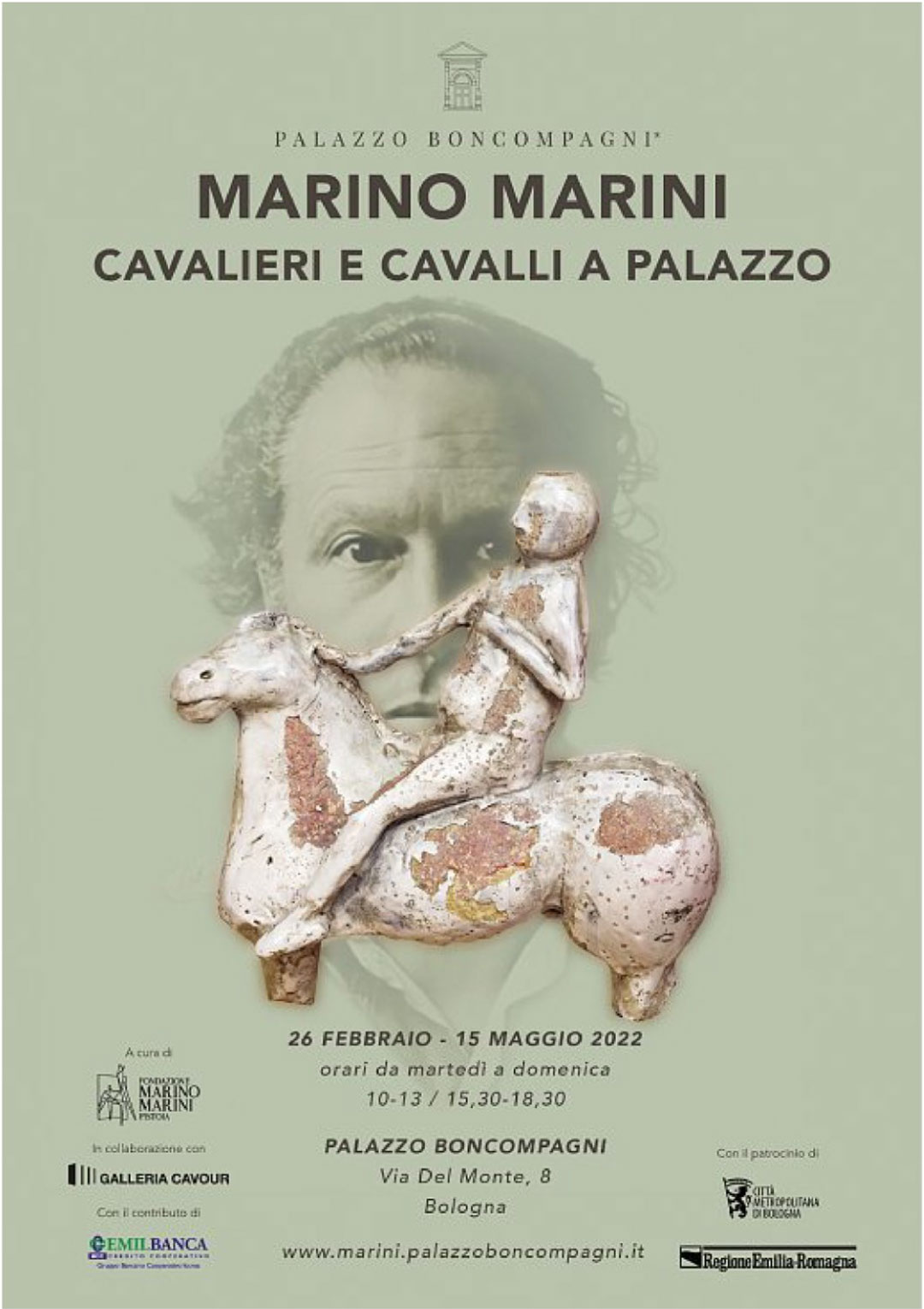 Cavalieri e Cavalli a Palazzo, organizzata da Palazzo Boncompagni e curata dalla Fondazione Marini Marini di Pistoia in collaborazione con Palazzo Boncompagni, rientra nella decima edizione di ART CITY Bologna, dal 12 al 15 maggio 2022 (in questi giorni l'orario di apertura sarà continuato, dalle 11.00 alle 19.00 e sabato 14 maggio per la ART CITY White Night dalle 12.00 alle 20.00).